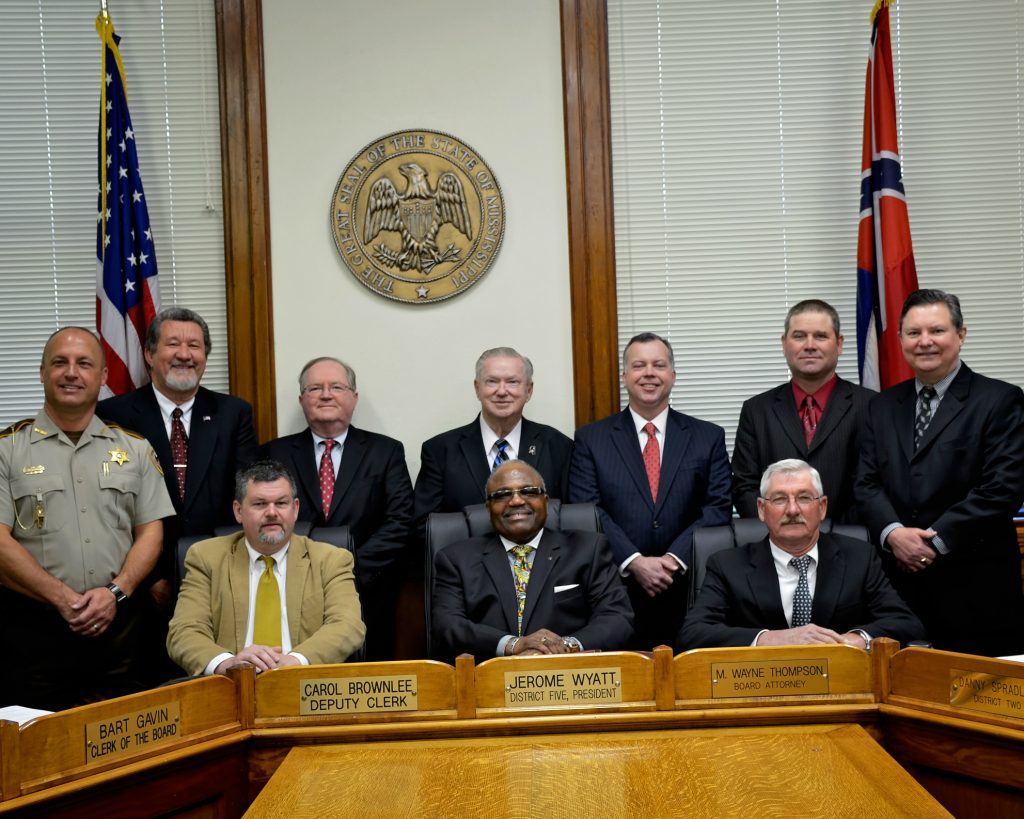 The five-member board is the chief policy-making and administrative body or unit of the county. Each county is divided into five districts, commonly referred to as "beats". Each district elects a supervisor who serves a four-year term.
---
---
Each supervisor handles some administrative duties in their district, together the members set policy. While each supervisor represents their district, all of the members are expected to look after the good of the county as a whole.
Road construction and maintenance are the responsibility of the Board. It is a very important job to be responsible for hundreds of miles of local highways and roads. The board can also set traffic regulations for the county roads. But the board must look after many things in addition to roads.
The power to tax and the power to appropriate and budget funds are the two most significant powers the board exercises.
Board meetings are held twice a month. Meetings are open to the public. The board serves a unique role in Mississippi counties — it is the one body which supervises almost everything that goes on in county government.
---
Board of Supervisors:
Beat 1 – Johnny Burnett, Vice President
Phone 601-425-5370
Fax 601-425-2511
Beat 2 – Danny Spradley
Phone 601-729-8680
Fax 601-729-4043
Beat 3 – Barry Saul
Phone 601-428-4929
Fax 601-428-9714
Beat 4 – David Scruggs
Phone 601-477-8533
Fax 601-477-3909
Beat 5 – Jerome Wyatt, President
Phone 601-649-5275
Fax 601-428-3619    http://jonesbeat5.com/
---
Support Staff:
Chief Administrative Officer- Danielle Ashley
Phone: 601-649-1280  Email: dashley@co.jones.ms.us
Chief Financial Officer – Charles Miller
Phone: 601-428-3134  Email: cmiller@co.jones.ms.us
Chief Communications Officer – Chataura Sanders
Phone: 601-422-4222  Email: csanders@co.jones.ms.us
Administrative Assistant- Chasity Gray
Phone: 601-428-3139 Email: cgray@co.jones.ms.us
---
Contacting the Board:
Physical address:
415 North 5th Ave
Laurel, MS 39440Hours:
8:00 am to 5:00 pm
Monday through Friday
Mailing address:
PO Box 1468
Laurel, MS 39441
Phone: 601-428-3139
Fax: 601-428-3602
Public Meetings Dates:
1st and 3rd Monday of every month at 9:30 am.Each meeting on even numbered months and all 3rd Monday meetings are held at the Laurel Courthouse. The 1st meeting on odd numbered months is held at the Ellisville Courthouse.**If you have any information to add to the Board of Supervisors meeting agenda, please turn it in to me before noon on the Thursday prior to the meeting.