CHANCERY COURT FEES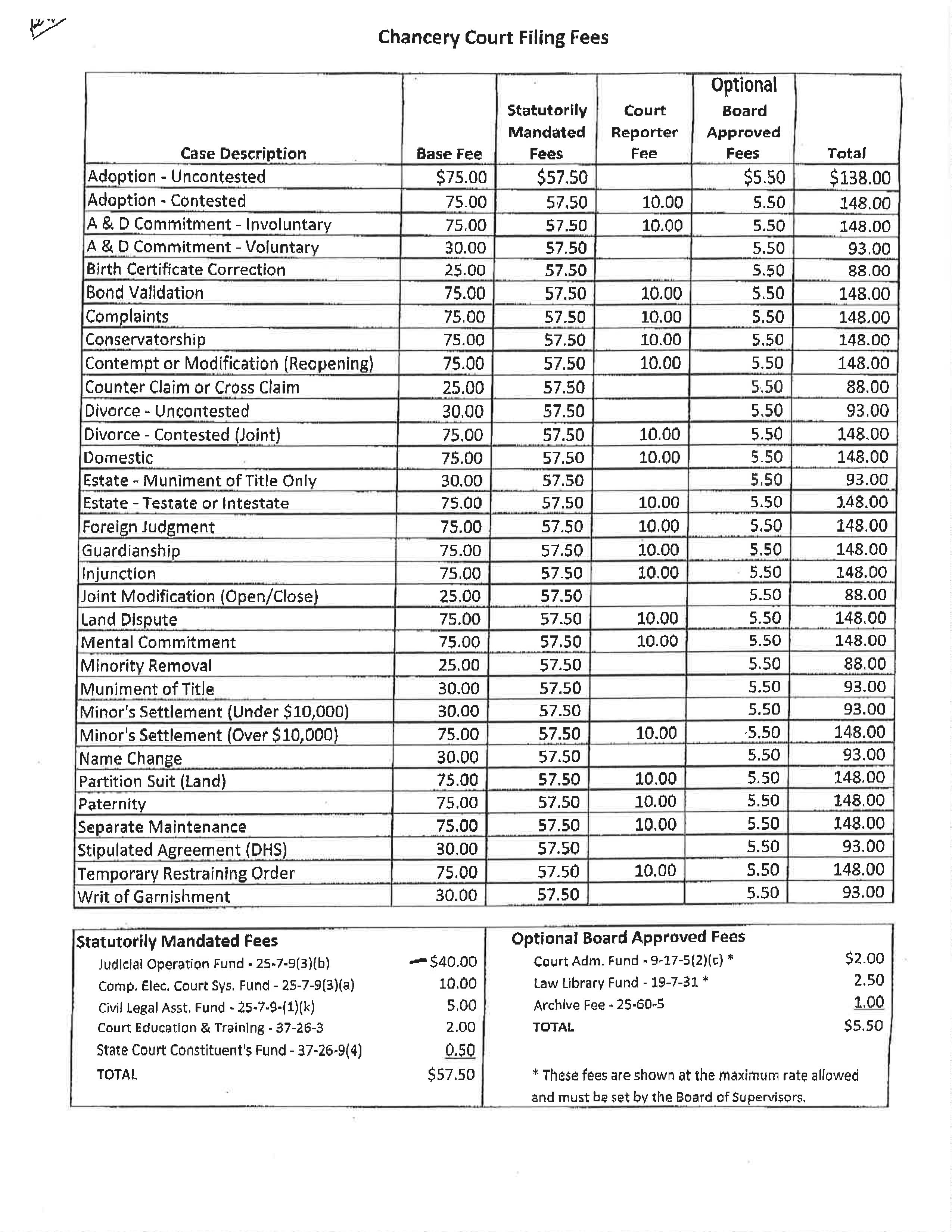 ---
LAND RECORDS FILING FEES
EFFECTIVE JULY 1, 2012
1. All filing fees shown below are for the first fifteen (15) pages of any instrument. Please add $1.00 for each additional page.
2. If a document pertains to more than one section of subdivision lot. Please add $1.00 for each additional section or subdivision lot.
3. Each additional Assingee & Assignor (after the first one) on any Oil & Gas Assignments is an additional charge of $18.00 EACH.
4. Return address must be on each document.
5. All deeds must have Grantor and Grantee name, address, & phone number on the front page.
6. All deed must have a notary seal & indexing instructions.
7. Each additional book/page or instrument number to have a marginal notation is an additional $1.00 for each one after the first.
Deeds and Leases (Warranty, Timber, Quitclaim, etc.) ————————————- $12.00
Please advise if mineral stamps are to be affixed. ($0.03 acre-mineral stamp)
Scrivner's Affidavit ———————————————————————————– $12.00
Deeds of Trust —————————————————————————————— $17.00
Lis Pendens ——————————————————————————————— $12.00
Assignment of Rents and Leases —————————————————————— $17.00
Easement/Right of Way—————————————————————————— $12.00
Assignment/Partial Release/Cancellation/Satisfaction/
Subordination/Modification/Substitution of Trustee, etc. ———————————- $13.00
Construction Lien ————————————————————————————- $12.00
Covenants (plus $1.00 per additional lot/section)——————————————— $12.00
Townhouse & Condominium Liens ————————————————————– $12.00
Trustee's Deed or Substituted Trustee's Deed ————————————————- $13.00
Filing of Plat (plus $1.00 per additional section/lot) —————————————– $12.00
Federal Tax Lien or Judgment ——————————————————————— $12.00
Power of Attorney ————————————————————————————- $12.00
UCC1 – Land only ———————————————————————————— $17.00
UCC3 – Financing statements, Releases, Cancellations, etc. —————————— $13.00
Royalty Deeds (plus Mineral Stamps as shown below) – $0.08 acre ——————– $20.00
Oil and Gas Leases & Ratifications ————————————————————– $20.00
(Plus Mineral Stamps as shown below. Plus $1.00 for each book and page/instrument marginal notation when applicable.)
Oil and Gas Lease Assignments & Cancellations——————————————— $21.00
(Plus Mineral Stamps as shown below. Plus $1.00 for each additional book & page/instrument marginal notation when applicable.)
Mineral Stamps- Oil, Gas & Mineral Leases: per acre ($1.00 minimum) —————  $0.03
Mineral Deed: per acre ($1.00 minimum) ——————————————————-  $0.08
Self made copies —————————————————————————————-  $0.25
Clerk made copies  ————————————————————————————-  $0.50
Certified Copies of recorded/files documents (certification only added to copies) —  $1.00
Copy Requests by mail (written request, paid by money order) ——–  $5.00 per document